"That would be funny, the Wicked Witch of the West. You can print that she definitely doesn't have a crush. But anything else, you wait until you get the okay from me."
"Jack, why would you make me wait, you could capitalize on a story like this while you're in Maine."
"Lexi, Maine is like my backyard. We have a home up there. I want to win the state so big. When you do report what I'll give you, this race will be all over."
"You know I want it, Jack, just let me know the minute I can use it."
"I'll tell you now; it will be the day after we win Maine. Our buses are on their way right now, and will be joined by a third when they get there."
"Why are you adding another bus?"
"One will be for staffers and the most favorable press, and the rear bus will be for other press. Bud and the gang will be up front with me."
"Speaking of buses Jack I got quite the ribbing from the press core about the two hours I spent interviewing with you up front."
"Why it was all innocent enough?"
"Jack it was because of that Daphne chick you have working with the press. She stood right at the door to your bus after I went in and told everyone, 'The senator is not to be disturbed.'"
I belly laughed and Lexi joined in, "You'll have to get used to that, Miss Exclusive. I've heard the rumors. They're just pissed at you because Daphne's job is to keep the interviews to fifteen minutes."
In fact, Daphne and I had a code worked out. She comes back and says the next appointment is ready. If I object, she insists we keep
things moving so we can get to everyone, she knows to get rid of whomever I'm with.
Honestly, we could give a crap about getting to anyone; we only feed the good press. If I say nothing then she waits another five minutes and it goes like that until I object.
"Lexi her standing orders are – when you're on the bus – no other press – everyone clears out."
"That's why everyone's pissed off at me. Who is Daphne anyway? She is sooo intimidating. All the women hate her and the guys are going gaga and can't stop talking about her. It's like we're all in Junior High again. She has a knack for making people feel like crap just walking up to her."
"Not you Lexi."
"Really Jack? Do you want to know what it feels like for me approaching her?"
"I can't believe you would even care Lexi."
"Jack it freaking feels like everyone has a copy of the latest Sports Illustrated Swimsuit edition and is comparing me to it. Seeing her gets everyone off their game. The men—even some of the big time guys are tongue-tied talking to her—it's sort of funny. On the bus, behind her back it's like a locker room, the testosterone and male bravado, but when they get face to face with her, they melt."
"How would you know what it's like in a locker room?" I teased.
"You never told me who she is, and I didn't really want to bring her up when I was with you in Florida. Is she a model, an
actress?"
I wouldn't have gotten away with it face to face, but over the phone, she…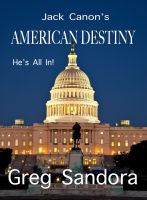 Buy Now @ Amazon & Smashwords
Genre – Political Thriller
Rating – PG
More details about the author
Connect with Greg Sandora on Facebook & Twitter
Website http://www.gregsandora.com/