"The last run was our best, Sandy, sixty-eight!" I told her, proud of myself. When we got back to our starting point, we turned into the garage. I stopped briefly, thanked the attendant and grabbed a ticket.
Sandy said, "Pleeease, Jack, can we just take it easy now?"
The cockpit was relatively quiet, even with all the commotion we created. Tires screeching, rear end fishtailing, burning rubber all the way to the third level.
On the way up, I told Sandy, "It sounds worse than it is!"
"Off!" One final command and the powerful machine instantly fell into motionless repose.
"Jack! Driving with you feels like sitting in a rocket sled perched on a banana peel. I feel like I just lifted off in the space shuttle. You're impossible! Really, Jack, you try sitting in the death seat with someone driving like that! I nearly put my foot through the floor trying to stop the car myself." Sandy threatened with a look like she'd never get in my car again. This time I think she meant it.
"We have to take the elevator. This skirt is too tight for me to climb stairs." I was laughing, exhilarated as we hurried towards the exit. Sandy was trying her best to keep up, one hand on my shoulder the other on my arm for balance. I pushed the button and showed her my watch, "See we made it."
"Jack, we've only made it to the elevator," she said slightly exaggerated, out of breath. She was shaking a bit. I grabbed her by the shoulders and looked down deep into her eyes.
"Don't worry, I sent everyone a text before we left to hold off for 20 minutes. I just wanted to take you for a ride and have some fun. Wasn't that an awesome adrenaline rush?"
"I just didn't want them to blame me for making you late." Sandy's eyes were a little watery. She grabbed a tissue out of her purse and dabbed them dry.
"It wouldn't have been your fault. Don't cry Honey; I'm sorry you're upset."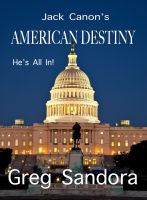 Buy Now @ Amazon & Smashwords
Genre – Political Thriller
Rating – PG
More details about the author
Connect with Greg Sandora on Facebook & Twitter
Website http://www.gregsandora.com/